OnePlus 7 Pro 5G: the fastest smartphone in the world
OnePlus 7 Pro 5G offers better throughput than Galaxy S10 5G, LGV50, and Oppo Reno 5G according to network tests performed by RootMetrics. It is even far ahead of its competitors, while Samsung's smartphone is below the others. OnePlus 7 Pro 5G is the winner of an independent network test conducted by RootMetrics. The smartphone offers significantly higher speeds than the three competitors to which it was opposed, namely the Galaxy S10 5G, LGV50, and Oppo Reno 5G
OnePlus 7 Pro 5G faster than Galaxy S10 5G, LGV50 and Oppo Reno 5G
The OnePlus 7 Pro 5G reached 694.51 Mbps. The LG V50 finished second and "satisfied" with 598.44 Mbps, almost 100 Mbps are less than its rival. Then follows just after the Oppo Reno 5G with 590.01 Mbps while the Samsung Galaxy S10 5G finishes last in the study with 548.45 Mbps. "OnePlus is proud to offer such a fast and seamless experience, and these results demonstrate that we have provided our users with a first-class 5G product,"
Said Pete Lau, CEO of OnePlus.
To perform this flow measurement, RootMetrics conducted network tests in several London districts via the EE operator's network. Excellent performance for the OnePlus 7 Pro 5G, which is perhaps the most dominant 5G compatible mobile phone on the market. The experiment has left out some models, such as the Xiaomi Mi Mix 3 5G for example, we cannot, however, affirm this with certainty. We are waiting to see the performance of the Mate 30 5G, Note 10 5G and Mi Mix 4 5G to see if the OnePlus 7 Pro 5G can keep its crown. Not to mention a probable OnePlus 7T Pro 5G.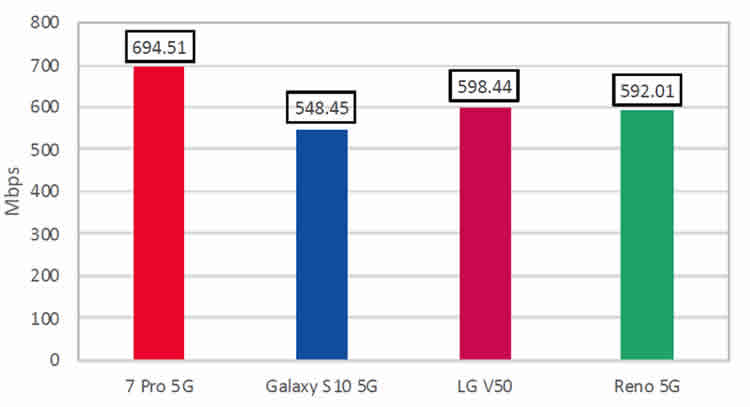 Image Credit: RootMetrics